Copyright © 2015 Chris Schnaufer
Another Mustard & Horseradish topping on the internet?! Really?
Yes, this is one of those! But not really, so, maybe it isn't one of those.  There, we've reached a true compromise where no one is happy. Are we all happy now?
So, what's so special about this recipe? It's savory, that's what! All the recipes I've found, and I've really looked, all have Mustard and Horseradish (surprise!) with some other stuff thrown in. And, not one of them has the stuff I've thrown in.
Keeping up with my Asian-European fusion recipe theme I've concocted this one that happily had came out much better than I had expected.
Full Disclosure: my failures never make it to the internet, and so you'll never know what else has gone on in my kitchen (which you should be thankful for). The "overcooked" food, the tastes that don't go together, or don't taste like anything (which is even worse), the judicious use of the microwave to finish something off (read as undercooked), and so on. We all have our cooking skeletons.
The impetus behind this recipe was Valentines day this year where I wanted to make something out of the ordinary – of course one can't have the same-old thing for such a special day. While thinking about what to cook my thoughts wandered to a warmer time in southern France and some wonderful Tapenade consumed there. With that thought as our inspiration, we finally come to the savory recipe that's a Mustard and Horseradish topping for fish with Mediterranean and Asian influences.
Ingredients:
Small bunch of Cilantro – about 2-3 cups un-chopped
3/4 cup Dijon Mustard – smooth or chunky, it's your preference
1 Tbl Horseradish
1/2 cup Olives
2 tsp Tamari
2 Tbl Butter
Small Spring Fresh Rosemary
Salt and Pepper to taste
1 Shredded Sweet Potato – about 3 cups shredded
1/4 cup Corn Starch
Oil to shallow fry potatoes
1/2 – 3/4 lb Fish – I suggest a steaky fish like Swordfish or Tuna, but a white fish works just as well
Breadcrumbs for on top of the topping. I prefer the Panko style.
Topping
The first step is to put the Cilantro into your food processor and coarsely chop it up. Use 3 cups if you are a Cilantro fan like me. Otherwise, use less.
Once that's taken care of, add the Mustard, Horseradish, Olives, Rosemary, Tamari, and Butter.  If you like a little more Rosemary taste you can put some aside and add it at the very end of the processing.
Add in salt and pepper to taste and blend together. How much is to taste? Good question! My suggestion is to add on the low side of what you think you want, and add more after tasting at the end while using the pulse button to mix it in. Don't blend until everything is a smooth paste – that is not this recipe. See the picture below for reference (the Rosemary is un-chopped in the photo since I added some at the end).
Note that you can use a Blender for this, but I think a food processor works much better since the topping is on the thick side.
Sweet Potato
The first step is to not overcook the potatoes in this first step! After you've moved on from that first sentence, boil the shredded potato until it's al-dante (slightly soft but still firm and not breaking apart). I have a steel wire colander that I put the potatoes in before dunking them in the boiling water. Unless you have kitchen toughened hands, you will want to quickly put cold water over the potatoes when they are done so you can handle them. Don't soak them! Putting cold water over the potatoes will also stop them from cooking if you feel that they are a little over cooked. Use a fork or tongs to gently move the potatoes so the cold water can reach them.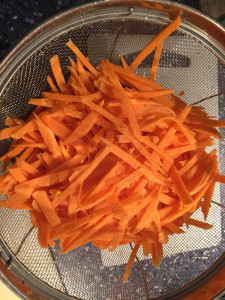 Put the potatoes into a bowl, mix in the corn starch, and form them into two mounds (cutting board as shown below is optional). The corn starch is there to help bind the potatoes together. If you are concerned about the potatoes sticking together or like things crispier, whisk the corn starch with 1 egg white and 2 Tbl of water and use that instead of plain corn starch.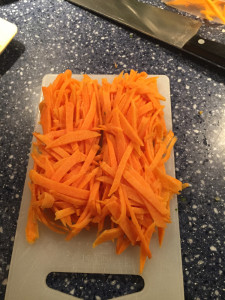 Take the mounds and fry them in shallow hot oil until crispy and/or done on one side. If you want, you can flip the mounds over and cook the other side adding more oil if needed. If you don't flip, cook the potatoes for about 2 1/2 – 3 minutes. If you do flip the mounds, cook only about 2 minutes per side, until crispy. Be careful not to burn them [insert haloed angel here].
Fish
In the pictures below, I am cooking tuna.
First, preheat your broiler and line a sheet pan with foil. Spray the foil with oil to prevent the fish from sticking.
Take your fish and slice it into pieces about 1 inch wide and 3 inches long. Place them on the foil, separated. Top the fish with the Savory Mustard & Horseradish topping. Sprinkle breadcrumbs on top of the fish topping and gently them press into the topping.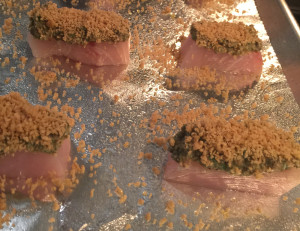 Broil the fish until it's done. For the Swordfish it was about 13 minutes. Preheating the oven helps cook the fish. If the breadcrumbs don't brown by the time the fish is done, move the tray closer to the broiler. If the breadcrumbs brown too fast, move the tray away from the heat. Personally, I prefer to brown the breadcrumbs after the fish is cooked.
Once the fish is done, put one mound of potatoes on a plate and put half of the fish on top.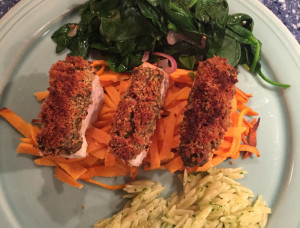 Delicious! Feel free to dig right in.
The spinach and orzo recipes are in other posts. If you can't find the posts, it means I haven't written them yet (and I haven't  removed this comment).