In exciting news today I want to announce that I've finished a new chainmail bracelet of my own design.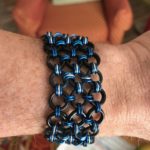 As you can see it's a very simple design. but with the right colors and rings it really stands out. When I started I felt that having less than three rows (or is it columns?) across wouldn't end up well. Having completed this one I can see that having only one or two rows would be enough. For my size, it's a bit wide; especially when worn with my Garmin.
It stretches to fit over the hand, which is my favorite way of doing bracelets, due to rubber rings added every third row.The black jump rings are stacked two deep while the rubber rings are only one deep. I have found that using only one rubber ring is sufficient and that they don't break easily.